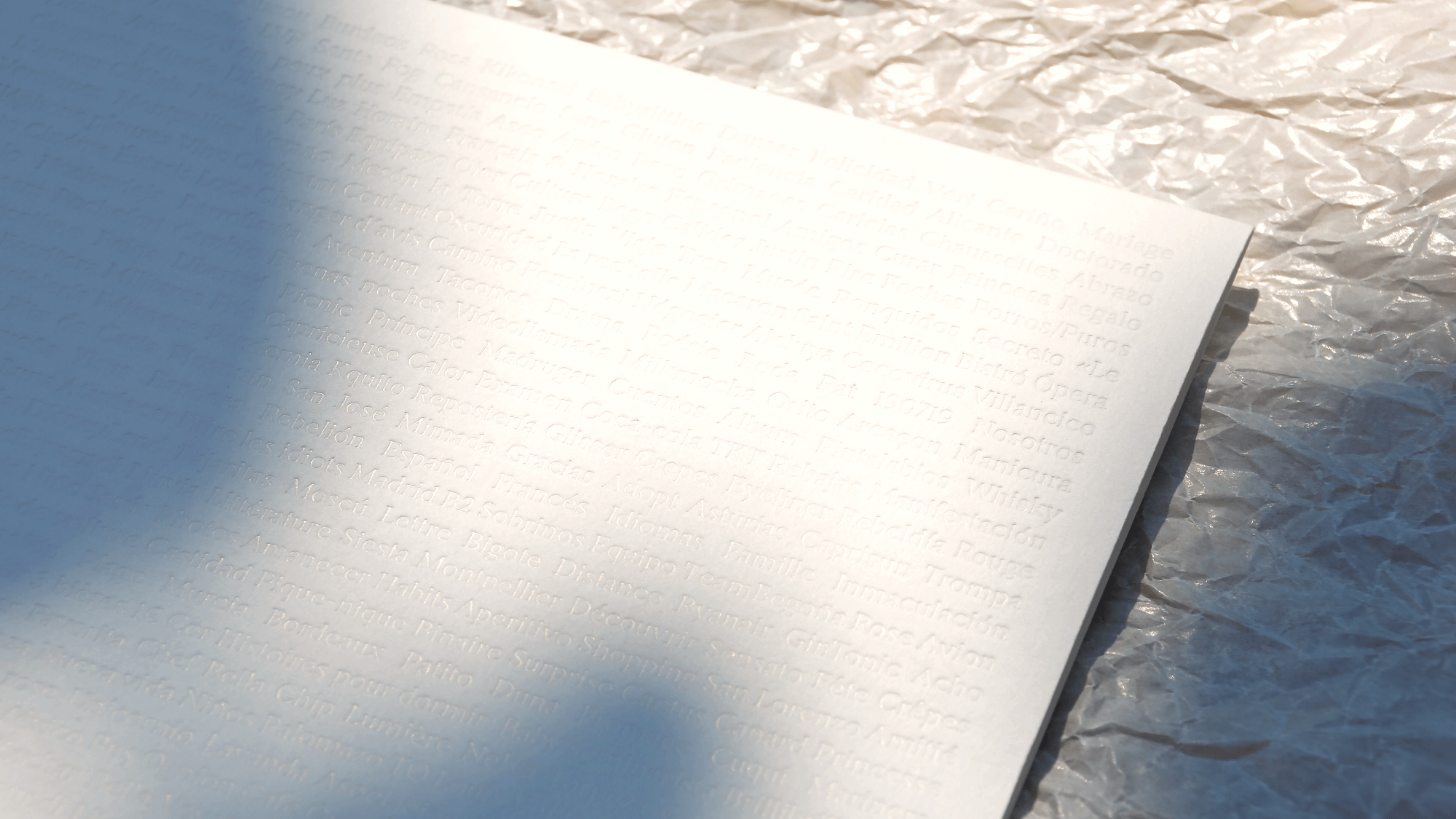 BEGONA & JUSTIN | 2021


A thousand words are worth more than a picture.
An invitation to get to know the fiancés.
Although a picture may be worth a thousand words, in this case there was no better way to symbolize Begoña and Justin's relationship than through their own ones. After three years of written correspondence, we decided to select the concepts and phrases that represent them best.





Aunque una imagen vale más que mil palabras, en este caso no había mejor forma de simbolizar la relación de Begoña y Justin que a través de las suyas propias. Después de tres años de relación por correspondencia, decidimos selccionar los conceptos y frases que mejor los representaban.
SERVICES
Concept
Graphic Design
Art Direction
Photography

The words –which have accompanied them so much during these years– appear on the textured paper by a debossed white stamping.
In this way the story of Begoña and Justin is proposed as a suggestion to the reader. An invitation, not only to one of the most important days of their lives, but also to get to know them more deeply.

Las palabras –que tanto los han acompañado durante estos años– aparencen sobre el papel texturizado a través un estampado bajorrelieve blanco.
De esta forma, la historia de Begoña y Justin se muestra como una sugerencia al lector. Una invitación, no sólo al día más importante de su vida, sino también a conocerlos en profundidad.


An entire project in which several pieces were designed: invitation card, stamp, cards, menu, missal and brazalets.
Un proyecto íntegro en el que se diseñaron las distintas piezas de papelería que los novios necesitaron para el día de su boda: invitación, sello, tarjetas, minuta, misal y pulseras.